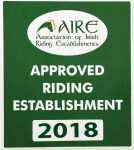 We run a range of horse riding lessons for adults and children (min age 4 years)  suitable for the complete beginner to  the more advanced rider looking to improve their skills. Beginner Lessons are held in the indoor arena our with more experienced lessons taking place in our large outdoor arena.
Lessons are available either privately or as part of a group.
Beginner Lessons
Regular Weekly Children's Lessons
We run regular weekly group lessons on a Saturday and have various times throughout the day.
Children are graded by ability rather than age.
Our minimum age to learn to ride is 4 years old.
The beginner lessons take place in the indoor arena and last for an hour, half being instruction and the other half a relaxing lead out along the country lane.
The instructors ensure that learning is a fun but safe experience.
Price: €25 per child per hour.
Children can also join our Young Riders Club
 One Off Lessons
Beginner group lessons for families and visitors run daily through the holiday period.
Riding hats and boots are supplied please see our what to wear guide for further information.
Price: €25 per person per hour.
Country Lane Trail
This ride is ideal for young children and for those just wishing to get a feel for horse riding.
The ride is approx 20 mins long and the ponies are lead if needed.
These rides run throughout the day please phone for times.
Price: €15 per child €20 per adult.
Private Lessons
Private lessons i.e. just you and an instructor are available for both adults and children.
The beginner lessons last for 30 min and take place in the indoor arena.
Price: Adult €45  Child €30
Experienced Lessons
For the Child Rider
We run regular Saturday group lessons which are all graded on ability.  These more advanced lessons take place in the large outdoor arena. The lessons are progressive with each child being treated as an individual  to ensure that they learn and their own pace whilst enjoying their riding.  The group lessons include flat work, jumping and ride outs on the beach.
Please phone or email with details of previous experience so that we can allocate you to a suitable lesson group.
Group lesson rate - €25 per child per hour
Private lesson rates -  €40 for 1 hour or €30 for 30 min
For the Adult Rider
We offer one to one individual lessons (private lessons). Your instructor will help you gain new skills, knowledge and confidence whilst improving and developing your all round horsemanship. Our horses and ponies are all careful chosen for their quiet but willing temperaments. Your instructor will allocate you a horse according to your ability and experience, making it a fun, safe and thoroughly enjoyable experience.
Horse riding is not only fun, it provides both a physical and mental workout. An hour's horse riding can burn similar calories to a 30 min jog as much as 400 – 500 calories.  Please read our Benefits of Horse Riding page for further information.
Why not bring a friend or family member along and take advantage of our group lesson rate.
Private Lesson rates - €45 for 1 hour or €35 for half a hour
Group Lesson rates - €30 for 1 hour or €20 for half a hour
The Young Riders Club is designed for "horse crazy" kids for whom a regular riding lesson doesn't begin to allow the time around horses that they crave. These kids have a strong desire to learn more about horses and their daily care and routines. It is an opportunity to socialise with their peers in a structured and creative atmosphere. The club will  provide a structured training system for riding and horse care which will enable the rider to take part in the AIRE young rider progressive tests.
Once children have attended a series of weekly Saturday lessons, they can join the Young Riders Club. The club runs on a Saturday from 10am – 4pm .  During the day they will receive their normal weekly lesson, plus theory and practical sessions.
Young riders club is split into two groups:-
Mini Riders – For younger & novice riders
Advanced Riders – For riders that have been with us for some time and are cantering and jumping.
Saturday sessions cost €30 extra sessions run throughout the school holidays, but to attend these children must have attended at least 2 Saturday sessions per month for the previous 3 month period.
Full copy of club details and charter
Frequently asked questions and other information you may find useful.