Visit us to experience some of the best beach riding Donegal has to offer.
Horse riding lessons, beach/trail rides & pony camps available.
Open all year round advance booking recommended.
We offer a range of beach rides, lessons, pony camps and short breaks.
Please hover over or click on images for further information.
Photos from past beach rides on Tullan Strand, the Erne Estuary and the surrounding dunes.
All guides carry cameras and are happy to take pictures for you when safe to do so.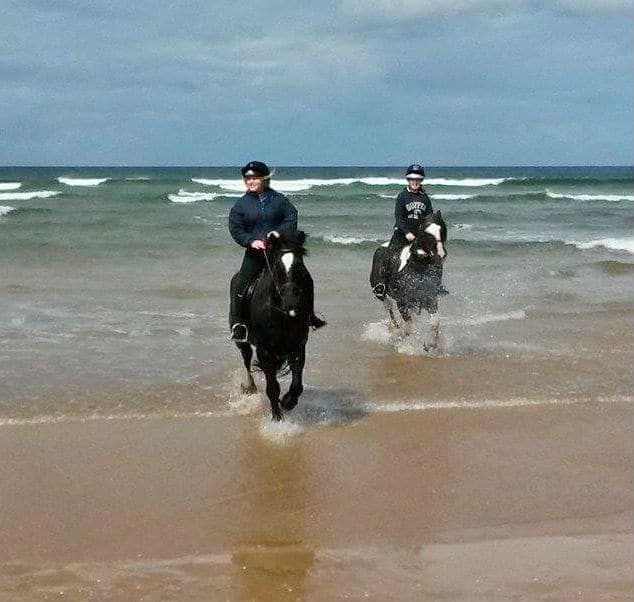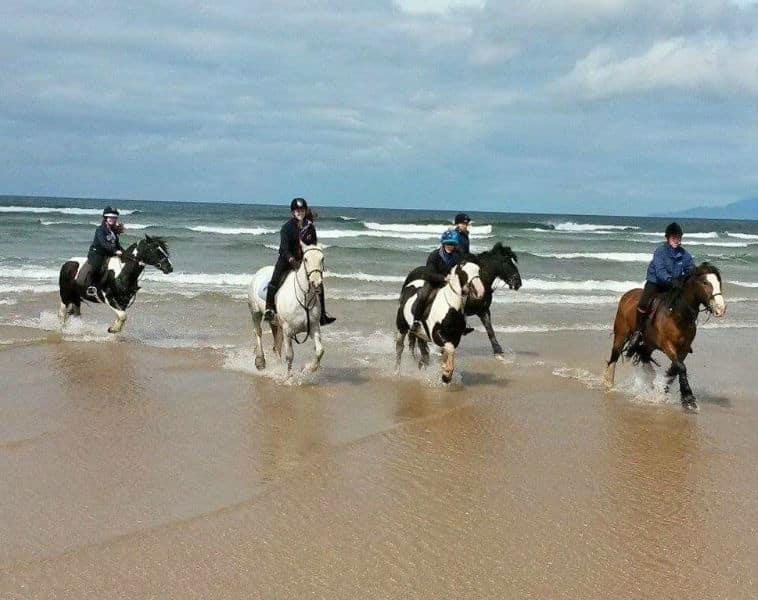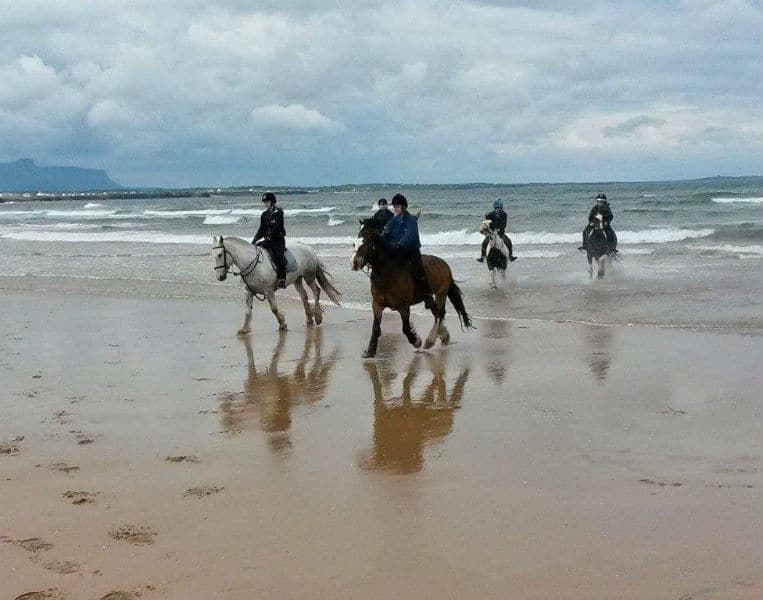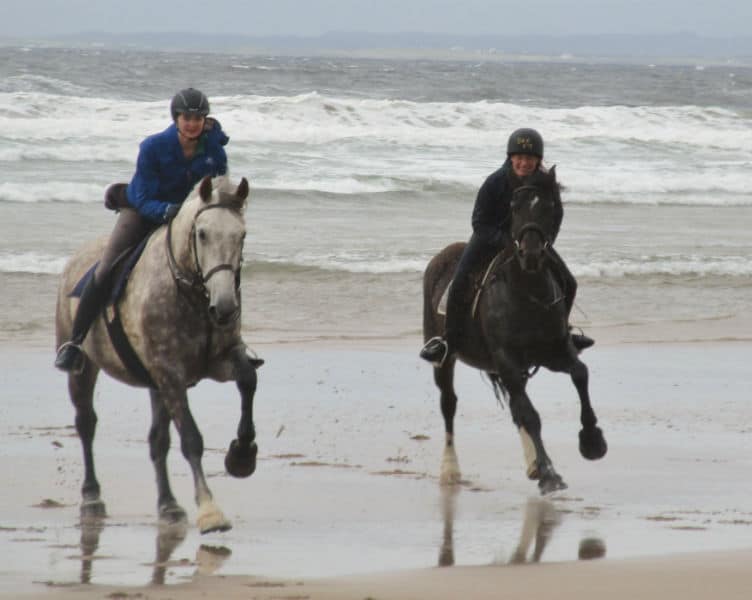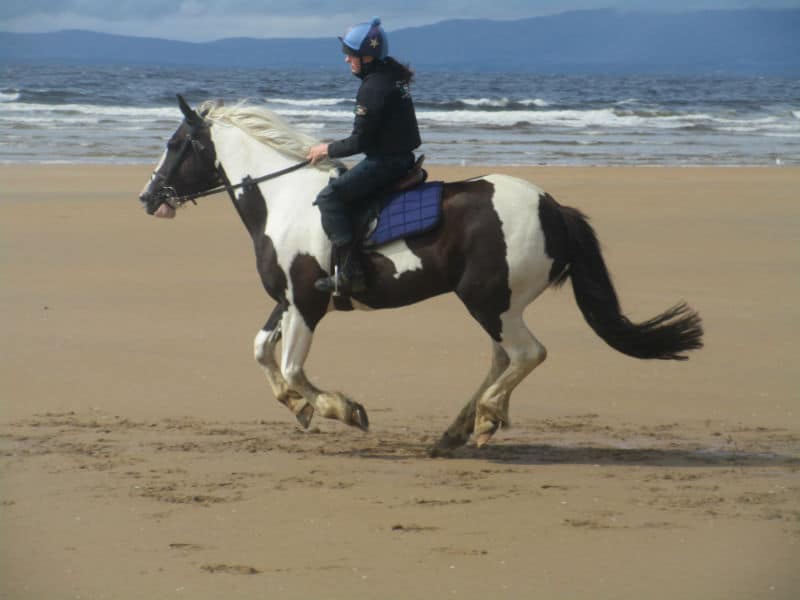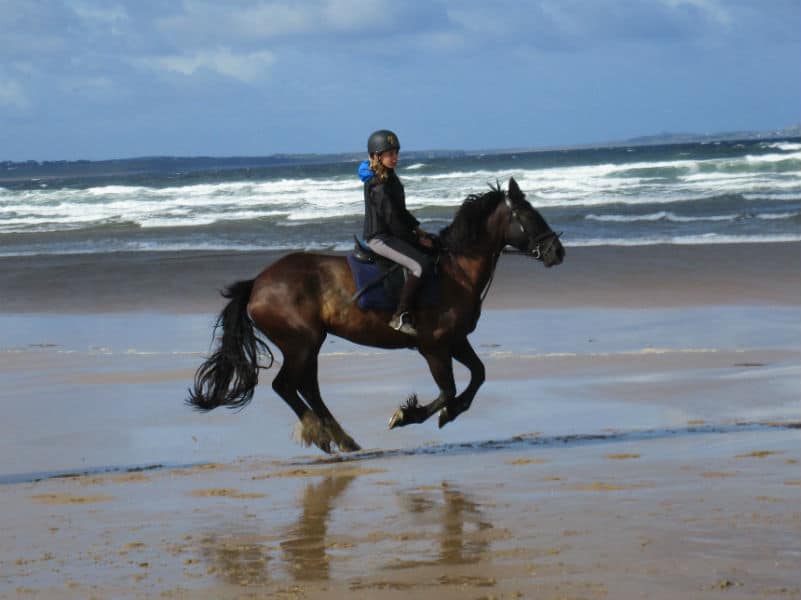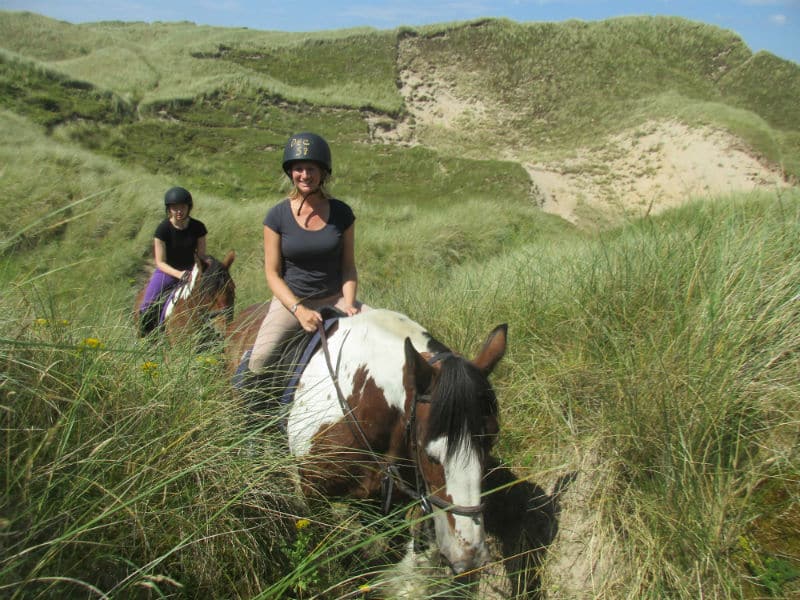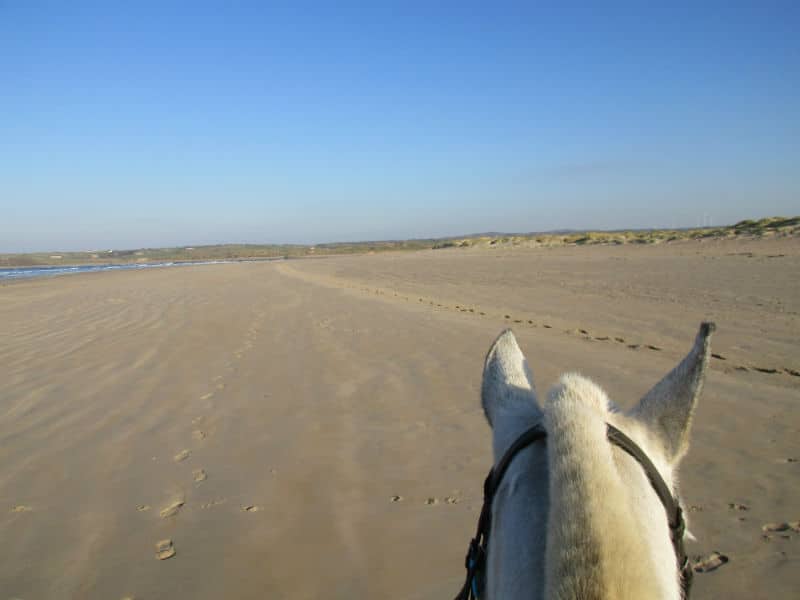 Donegal Equestrian Centre is situated 1 mile from the centre of Bundoran in the beautiful
North West coast of Ireland is the perfect choice for all your horse riding .
The centre offers instruction in riding, pony camps, beach & trail rides suitable for all levels of rider.
We have a wide range of horses and ponies to suit all ages and abilities.
Packages can be tailor-made to suit your requirements.
With Tullan Strand, part of the Wild Atlantic Way, on our doorstep and magnificent mountain views within a short distance. Donegal and its neighbouring counties of Sligo and Leitrim give the trail rider an insight into three of the most beautiful and untouched counties of what is known as the Wild North West.
So whether it's a relaxing break away from it all, a chance to improve your riding, a gallop on the beach, or the Pony Camp experience of a life time Donegal Equestrian Centre is for you.
Most of all Donegal Equestrian can offer you an unforgettable experience in a fun and safe environment.
 A  MAGNIFICENT time!
My husband and I took a trail ride with Susan today and we had a MAGNIFICENT time! I am an experienced rider and my husband is a novice, and Susan was able to incorporate fun for both of us! Our Irish Cobs were quite pretty, well cared for, and a blast to ride. We have ridden other places in Ireland and your facility is truly a cut above the rest! Thank you for a truly fantastic experience.
Ashley Black - 12-03-2018 
A wonderful afternoon!
Our family spent two wonderful hours on horseback on the beach and in the dunes with Susan and three lovely horses. Unique, exciting and thoroughly enjoyable for three novice riders. Don't miss this. Nobody around, riding along a pristine beach on a gentle forgiving horse - it's hard to imagine anything better. And great value. Thank you Susan. I'd rate the whole package a six out of five!
Julie Brownrigg - 30 September 2017
2 hour beach ride with Fiona
My ride today with Fiona was fantastic. She was lots of fun, catered to my riding level perfectly, knew the horses very well and took good care of them. It was an excellent ride and the horses are lots of fun!
Teresa Laudenbach - 14 September 2017
Magical !
After a hurried start, our guide led us through the most amazing trails and beach area. The horses are obviously well taken care of and we're chosen for us with great care. While all of us had been on horses, it had been a while- and in a different saddle no less- your sweet horses gave us all the confidence to enjoy the outing. Our guide, Eleri, was fantastic as she chatted with us and pointed out interesting things. She was genuinely interested in the people she was with and did an excellent job. On a side note, we rode past a distant bluff that had a cow on it. The cow truly was minding her own business. When we circled back, our guide noticed that the cow was not alone, she was tending to a calf she had just birthed in the 10 minutes we had been gone! So sweet to see! I was just watching a few famous American tour guides on TV and posted to both about your wonderful facility. Thanks for helping us make memories. Thanks to Eleri for helping our family make memories !
Alexandra Tyson - 14 August 2017
First time rider
Our trip to Ireland was highlighted by a memorable horse ride on a beach. I had never ridden a horse, but the staff (Susan) was calm and confident and like everyone we met, kind and hospitable. Thank you guys for a fantastic once in a lifetime trip.
Steve Worsham - 7 July 2017
Please note all videos are taken from horseback so may be a little shaky.